What, exactly, is Devin Nunes doing?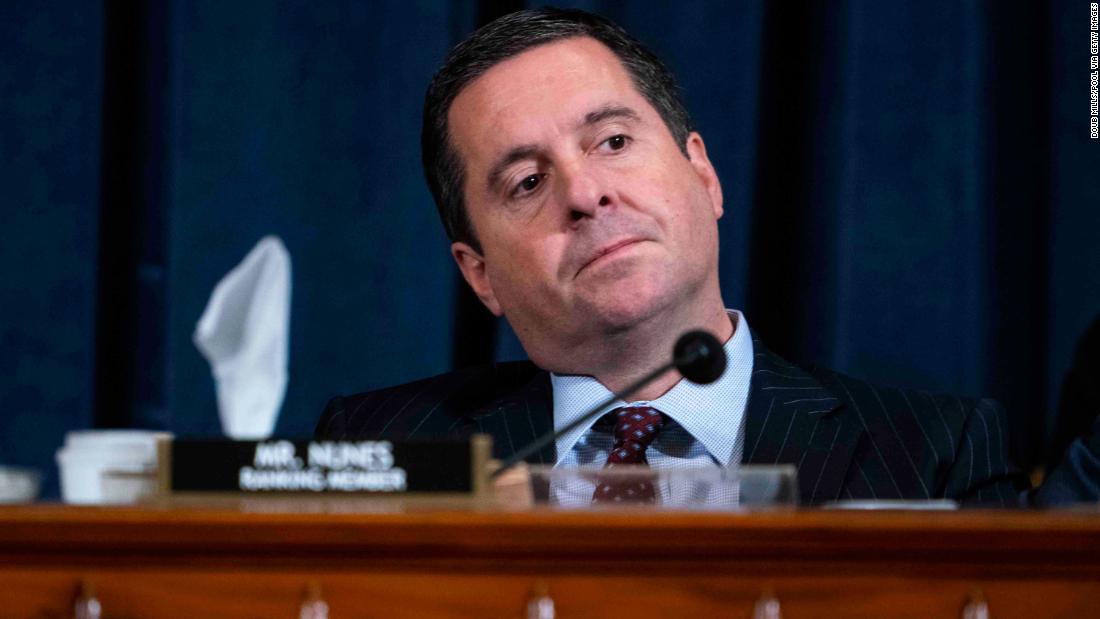 Rep. Devin Nunes, the ranking Republican on the House Intelligence Committee, was sitting right there as Sondland detailed clear evidence of a quid pro quo — the Ukrainians would get a sit-down between their President and President Donald Trump only if they announced an investigation into Joe and Hunter Biden's connections to a Ukrainian natural gas company — and made clear that all sorts of senior officials within the administration were aware of this in real time.
So how did Nunes start off his allotted 45-minute questioning of Sondland? By floating a series of debunked conspiracy theories about Ukraine meddling in the election, of course!
"We have records showing Democrats were heavily involved with Ukraine in 2016," Nunes said before detailing a series of claims that have been debunked not only by nonpartisan fact checkers but by the likes of former US special envoy to Ukraine Kurt Volker and former Trump homeland security adviser Tom Bossert.
On top of all that, there's all this: The intelligence community has unanimously concluded that it was Russia that sought to interfere in the 2016 election, with the goal of helping Trump and hurting Hillary Clinton. Special counsel Robert Mueller's nearly two-year investigation drew the same conclusion.
So …
Here's the thing: This isn't the exception for Nunes' performance during these public impeachment hearings. It's the rule.
On the first day of public hearings last week, Nunes used his opening statement to:
* Call the hearings a "pitiful finale" to Democratic attempts to overturn the results of the 2016 election.
* Describe the closed-door testimony offered by Ukraine witnesses a "cult-like atmosphere."
* Suggest that the whistleblower "was known to have a bias against President Trump."
* Deride the "impeachment sham."
* Refer to the impeachment hearings as a "Star Chamber."
* Dismiss the investigation as a "low-rent Ukrainian sequel" to the Mueller investigation.
On Tuesday, ahead of a full day of impeachment hearings with, among others, Lt. Col. Alexander Vindman and Volker, Nunes dedicated the entirety of his opening statement to attacking the media.
Nunes claimed that the media was responsible for, among other things, pushing the idea that Trump's 2016 presidential campaign had colluded with the Russians (the Department of Justice decided to open the investigation, not the media) and working with Democrats to drum up controversy surrounding Ukraine (the witnesses called so far in the impeachment investigation have been members of the Trump administration.)
Which brings us back to Wednesday's hearing.
While his past performance probably should have predicted future results, it was still striking to see Nunes, in the wake of Sondland's bombshell testimony, use his time to resurface an idea that few Republicans even believe: that Ukraine sought to meddle in the 2016 election to help Clinton and hurt Trump.
Why would — and did — Nunes do that? Because he cares about an audience, not of the American people, but of one: Donald John Trump. And as Volker (and Sondland) detailed in their testimony over the past 24 hours, Trump was absolutely convinced, despite all evidence to the contrary, that Ukraine had tried to keep him from winning in 2016.
Nunes, then, was playing to Trump and Trump alone — under the belief that doing so is the only politically viable option for him. Which might be true!
But it's the opposite of leadership, bravery, truth-seeking or truth-telling.